rec.og.ni.tion
/ˌrekəɡˈniSH(ə)n/
noun
identification of someone or something or person from previous encounters or knowledge.

acknowledgment of something or someone's existence, validity, or legality.
Don't rely on remembering.
Integrate recognition and feedback from your 1:1 meetings into continuous performance management.
Timely recognition matters.
It's proven*. Real-time recognition makes a real difference.
* According to Gallup, only 26% of employees find the feedback they receive helps them do better work.
Timely
Offered real-time or shortly after the moment.
Growth-oriented
Contain kudos and opportunities to grow.
Bi-directional
From manager to contributor and from contributor to manager.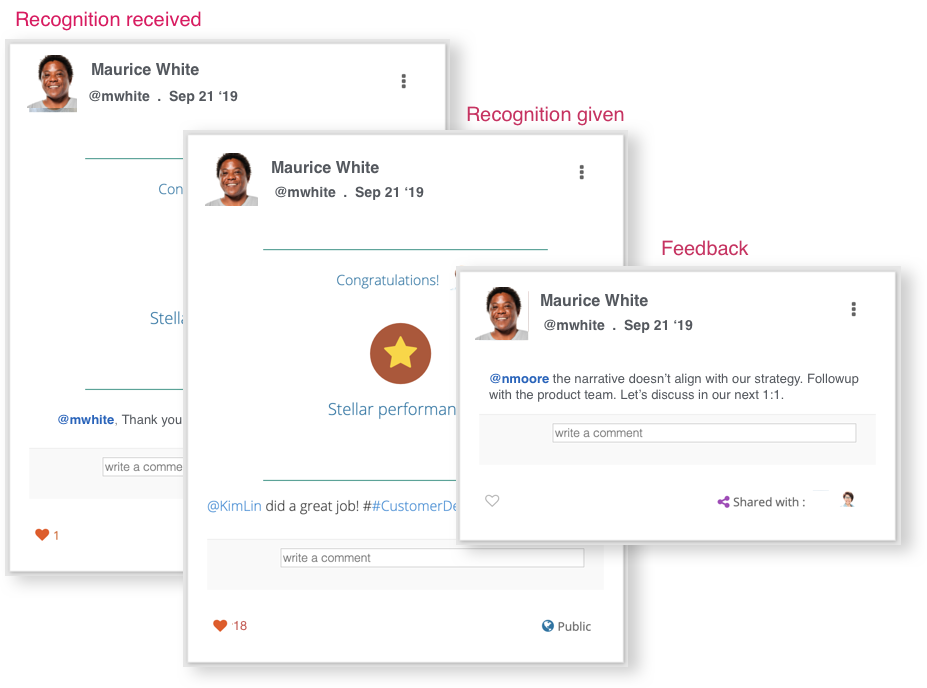 Get your people people obsessed.
Turn every manager into the best manager they can by prompting continuous feedback and incorporating what others are saying into weekly conversations with their direct report.
The Recognition Element makes it easy to pay attention to multiple facets of team health so managers can encourage behavior and address gaps, in real time. 
Every mile(stone) matters.
Timely recognition is more accurate, and more genuine. Equip your team to give more timely feedback and watch the results. The Recognition Element makes timely recognition part of your team's workflow. And it's not just about operational homeruns and misses.
Don't shortchange culture. Celebrate cultural milestones, not just operational ones. You can use the The Recognition Element to recognize people for exhibiting your core values or highlight misalignment.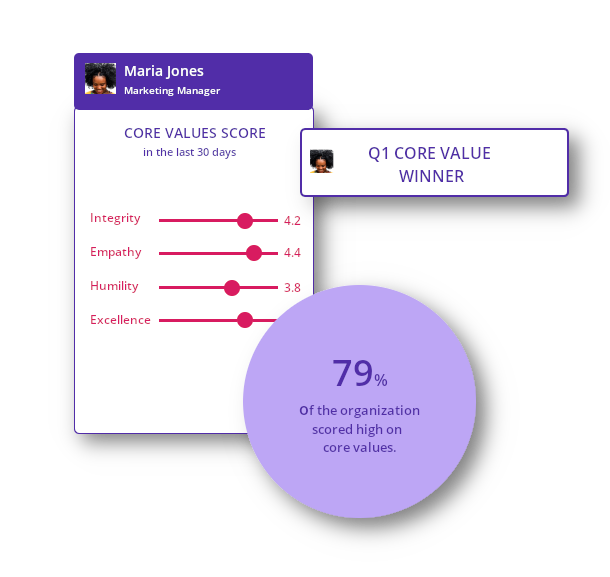 Performance review shouldn't be memory tests.
Get recognition out of siloed spreadsheets and physical notebooks and integrated into performance review assessments where it's most valuable.
The Recognition Element captures feedback from 1:1 meetings throughout the year so you can tag in-the-moment feedback to a specific area of your organization's annual performance review assessment. It will be there for you when performance review time comes around — whether it's annual or continuous.